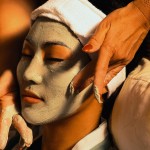 While treating acne, it's important to understand the main cause of the problem. Without knowing the root of the problem, you cannot treat it instead; it will further create trouble in future. Propionibacterium is a bacteria that causes the inflammation and infection that produces acne.  MayoClinic's naturopathic physician states that blue light destroys Propionibacterium acnes and red light reduces inflammation and improves healing of the skin. The treatment needs to be twice daily for 15-30 minutes each session.  Side effects are minimal and include temporary redness, dryness and maybe flaking. The pulsed light and heat energy therapy kills the bacteria that cause the inflammation and infection. Diode lasers destroy sebaceous glands in the middle layer of skin while Photopneumatic therapy is process in which vacuum suction is used to remove the oil and dead skin cells from within the sebaceous glands.
http://www.seattlehomeopathy.com/2012/04/01/light-therapy-for-acne/
You can follow any responses to this entry through the RSS 2.0 You can leave a response, or trackback.